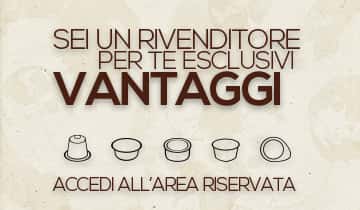 SA.I.DA. Espresso Pods offers the opportunity to buy wholesale coffee pods and capsules:
all business-to-consumer operators (i.e., retailers) who are looking for a quality supplier with advantageous prices (best value for money on the most prestigious brands, sellable, sold and therefore most in demand by consumers) can apply for become a retailer of coffee pods and capsules or simply have the opportunity to purchase products at a favorable price.
The price list proposed by SA.I.DA. Espresso Waffles for wholesale is reserved for:
– Business establishments in the field;
– Bed and Breakfasts and Farmhouses;
– Bars and Pubs;
– E-commerce stores;
– Restaurants and pizzerias;
– To VAT holders in general.
What characterizes the establishment of trust between distributor and retailer is experience and in-depth knowledge of the subject matter: our strengths that we have also transferred online, through the SA.I.DA. online shop. Espresso Pods.
Our expertise was acquired over time as vending operators (SA.I.DA. Distributori Automatici s.r.l. for Vending Machines) to later come to the creation of an online store for the sale of coffee pods and capsules and then finally landed on the creation of our own registered trademark (SA.I.DA. Espresso Cialde) and the sale of different blends of coffee for sale online.
Returning to the subject of wholesale coffee pods and capsules, let's overview just a few of the many brands that you can find and buy on our site: Caffè Borbone, Caffè Lavazza, Lollo Caffè, Covim and many more… It is also possible to find Grimac, Faber, Didiesse brand coffee machines and many other…
All pods and capsules in our warehouse are both original and compatible with most espresso machines.
For all retailers who not only want to retail coffee, alternative beverages such as: tea, herbal tea, barley, ginseng, chamomile, and soluble beverages of all kinds are also available.
It should be kept in mind that the sales conditions offered for Resellers are particularly advantageous, and depending on the volume of goods purchased, there are additional progressive discounts to prices that are already highly competitive and affordable in themselves.
Are you interested in our price list or would you like to learn more about coffee pods and capsules in bulk but also about capsules, instant beverages and coffee machines?
Fill out the form on the Reseller Accreditation page and you will be contacted within 24 hours and get all the information and clarification you need.