Are you tired of paying exorbitant prices for brand-name coffee capsules? There is a new and better solution: coffee in compatible capsules!
Compatible capsules are an affordable alternative to expensive brand-name coffee and come in a variety of flavors and varieties. Whether you're looking for a mild, smooth espresso or a robust, full-bodied blend, compatible capsules are the perfect way to enjoy a great cup of coffee without spending a fortune.
Not only the coffee in compatible capsules is cheaper than its brand-name counterpart, but in some cases it can also provide a better-tasting cup of espresso. With a wide range of options available in stores and online, finding the perfect compatible coffee is now easy.
Try, for example, to choose from our offerings on the Saida Gusto Espresso website, you will be spoiled for choice by the wide variety of compatible capsules to choose from.
What is compatible capsule coffee?
Want to get the best out of your morning cup of coffee and save money? Look no further and choose a compatible capsule coffee.
The coffee in capsules compatible with pod coffee machines is essentially a standard espresso capsule compatible with major brands such as Nespresso and Dolce Gusto, but without the high price tag of branded counterparts. This means you can enjoy your favorite espresso flavors without having to spend a fortune. And the best part? Now you can explore more variety and discover more options as you can choose from wide selections of compatible coffees in both supermarkets and online stores such as Saida Gusto Espresso.
Say goodbye to expensive brands and try compatible capsule coffee today!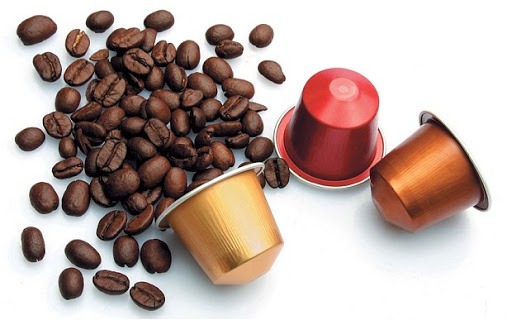 Where to find compatible coffee varieties
Fortunately, you don't have to look far to find delicious coffee options compatible with pod coffee machines. Thanks to Saida Gusto Espresso's e-commerce site, you can easily find out for yourself and make an informed decision about which is the best compatible capsule for you.
A popular option is Saida Gusto Espresso coffee capsules. Not only is the packaging eye-catching, but the coffee blend inside is smooth and aromatic with a natural sweetness that flatters every sip!
With so many different capsule-compatible coffees available on the market, it has become easier than ever to say goodbye to expensive brands and welcome a new way of drinking coffee in a more convenient, yet still quality way.
The best coffee in compatible capsules – Saida Gusto Espresso
If you are looking for the best compatible capsule coffee, look no further than Saida Gusto Espresso! Since its launch, Saida Gusto Espresso has offered coffee lovers an alternative to expensive brand-name coffee. Not only is this coffee compatible with all major machine models, but it is also incredibly tasty and flavorful.
It is made using a special blend of Arabica and Robusta beans that, combined, create a unique flavor that is sure to satisfy your taste buds! You can find this compatible coffee by ordering it online from the official website.
So what are you waiting for? Say goodbye to expensive brands and try today Saida Gusto Espresso: it could become your new benchmark!