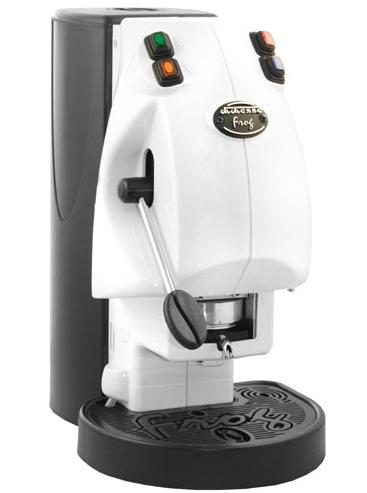 The Didiesse Frog coffee machine, thanks to its ease of use and practical, compact design, offers a mix of aesthetics and practicality, providing small moments of pleasure.
Didiesse srl is an Italian company, headquartered in Naples, born 15 years ago from the passion and expertise of a team of highly qualified professionals, which has managed in a short time to become the point of reference in the field of construction and marketing of coffee pod and capsule machines, strictly made in italy, both for private use and for hotel, restaurant and catering businesses.
All Didiesse coffee machines are therefore produced entirely in Italy (as many as 70,000 each year) using EEC-certified components, guaranteeing compliance with European standards for electromagnetic compatibility and safety
electrical.
Peculiarity of each Didiesse espresso machine is that it is studied first and realized later, starting from the real needs of end users, with the aim of arriving on the market with products characterized by innovation and high quality standards.

Didiesse Frog
is a pod machine not only useful for home use but also for those who need a quality coffee machine in the company and office. It is also available in many colors: white, light green, dark green, red, black, ivory, orange, light blue, blue, deep red, fuchsia, yellow, purple, and smoky. Excellent espresso machine for those who want to indulge in intense, thick coffee.
Let us now look at the specific technical features of the Didiesse Frog:
– Weight hovering around 6.5 kg;
– Dimensions: width 22 cm and height 40 cm, depth 32 cm;
– Power rating: 650 W;
– Voltage: 230V;
– Quick descaling system for optimal maintenance.