Cappuccino is a hot drink consisting of espresso, hot milk, and milk foam. Its origin is linked to the history of Capuchin monks, who created this drink in the 1700s to meet their needs for a nutritious and tasty breakfast. The name "cappuccino" refers to the light brown hue of the milk foam, reminiscent of the color of the hoods worn by Capuchin monks.
But cappuccino is not just a drink of the past; it is a classic that never goes out of style. As technologies have evolved and new flavors and ingredients have been discovered, cappuccino has evolved into a versatile drink that can be enjoyed in many variations and customizations.
Cappuccino quickly became popular throughout Europe and the United States, and today it is one of the most common drinks in cafes and bars around the world. But why limit yourself only to coffee shops when you can enjoy a great cappuccino at home?
The creation of the modern Cappuccino
The modern cappuccino was created in the early 1900s, a time when espresso machines were just making their appearance in the restaurant world. Before this, making a cappuccino was a long and laborious process, requiring a lot of time and skill. With the invention of espresso machines, making a cappuccino became much faster and easier, which meant that coffee shops and cafes could serve a fresh cappuccino to their customers in seconds.
Since then the cappuccino has evolved into many forms and variations. Today, there are chocolate cappuccinos, caramel cappuccinos, cappuccinos with various coffee blends, and many other variations. There are so many options available that the choice can be truly vast. But why limit yourself to only classic variations when you can create your own personalized cappuccino with unique flavors and aromas?
With the help of Saida Gusto Espresso Shop Online, you can find a wide range of cappuccino products, you can experiment and create your own personalized cappuccino at home to suit your tastes and preferences. There is nothing better than sipping a homemade cappuccino made with the ingredients and flavors you love best.
Cappuccino at home: Starbucks Cappuccino Capsules by Nescafe Dolce Gusto
To bring the quality and authenticity of cappuccino into your home, on the Online Catalog of Saida Gusto Espresso pupi find the Starbucks Cappuccino capsules by Nescafe Dolce Gusto. A range of products with excellent quality to enjoy a smooth, creamy and delicious cappuccino in minutes.
These capsules are designed for use with Nescafé Dolce Gusto coffee machines and offer the perfect combination of espresso and creamy milk for a tasty and aromatic cappuccino. With Starbucks Cappuccino by Nescafe Dolce Gusto capsules, you can make a cappuccino in seconds, without having to worry about measuring and dosing ingredients.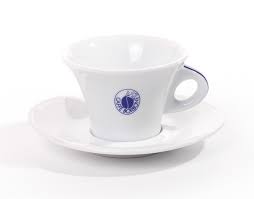 Bourbon ceramic service: elegant and refined cappuccino cups
Are you looking for cappuccino cups that are not only functional, but also elegant and refined? Then the Bourbon ceramic service cups are perfect for you. These cups are designed to provide a unique cappuccino-tasting experience, both aesthetically and in terms of taste.
The high-quality ceramic used to create these mugs makes your cappuccino hot for much longer, allowing you to enjoy your cappuccino for longer.The elegant design and perfect shape of the mugs allows you to enjoy your cappuccino in style.
Caffè Borbone's ceramic service is perfect for a family breakfast, afternoon tea with friends or a special evening. The mugs are also perfect as gifts for friends or family members who are cappuccino lovers.
In addition, this mug set is versatile and combines perfectly with your decor, being suitable for both classic and modern settings.
By purchasing the Caffè Borbone ceramic service, you will not only get elegant and refined cappuccino cups, but also a piece of Italian history, inspired by the Bourbon dynasty and its regal and refined style. So why not treat yourself to a cappuccino in a cup fit for a king?
Visit Saidagustoespresso.com to purchase your own Caffè Borbone ceramic service and enjoy a royal style cappuccino at home.
Conclusion
In conclusion, cappuccino is a drink rooted in Italian tradition, but adapted to modern taste. With Starbucks Cappuccino by Nescafe Dolce Gusto capsules, you can enjoy a quality cappuccino without having to go to the coffee shop. Also, to make the experience even more authentic, we recommend using a ceramic cup from the Caffè Borbone service, available on the online catalog of Saida Gusto Espresso, to accompany your drink and enjoy it as if you were in a real Italian bar.