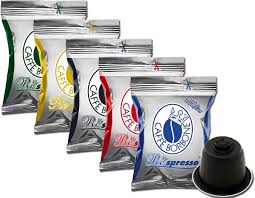 What is the best Borbone coffee machine? It's a question many people ask themselves to taste the all-Neapolitan goodness of an espresso coffee kingdom of a king, as is Caffè Borbone.
Le Borbone coffee capsule machines are all the electric ones with which one can use the capsules and pods produced by Borbone caffé, synonymous with quality because of the renowned varieties of beans used in the creation of the blends, has quickly become one of the most appreciated and consumed coffees by Italians.
If you are looking for a 5-star coffee, your choice can therefore only fall on Caffè Borbone!
No matter whether you want to drink Caffè Borbone in capsules or pods in the green, blue, red, black or gold blend, the choosing a coffee machine when purchasing it is a good idea to fall back on one of the many models listed at the end of the article, to be sure that every coffee break can be a moment of goodness.
It doesn't matter whether you use the
Borbone Coffee Machine
at home or at work, or you're looking for a coffee machine for bars, pubs, or simple cafeterias-the important thing is that it is compatible.
The espresso machines that can be used with Borbone coffee capsules/cialde in the list below are those that in the opinion of those who have already used them are ideal for making good Neapolitan coffee.
Our recommendation falls on the
Grimac machines
, but that does not preclude others:
– Faber coffee machines in the Faber Slot Plast model;
– Didiesse coffee machines in the classic Frog Didiesse model or the Isotta Didiesse model.