Are you thinking of buying the Faber Slot Plast coffee machine but want to make sure it is a good product first? Nothing could be more right! We tried this machine and its performance was optimal. If you want to find out the features of this Made in Italy product, a result among the best Faber coffee machines, go ahead and read our 2019 review! Happy reading…
Faber Slot Plast coffee machine: features
Let's start right away by saying that among the different Faber machines, the Slot Plast is characterized by its simple and straightforward design in appearance, but with a strong and robust heart. Its sides are made of sheet steel and not plastic, as is the case with most machines on the market today. And this contributes to the strength and durability of the Faber machine.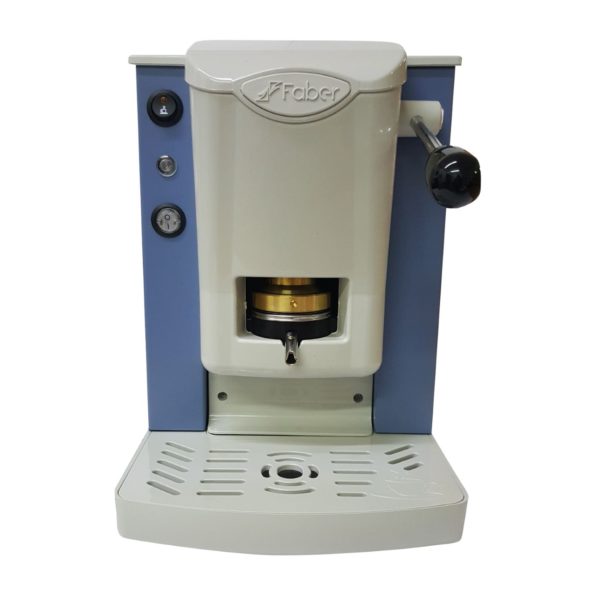 Among the best
coffee pod machines
this product has good dimensions (21x32x35 cm) and a weight of about 5kg, allowing it to be placed even in small spaces. In addition, this espresso machine can be purchased in many colors, alternating between one color for the central part and another for the side body. The different shades, from the muted to the cheerful, are perfect for any type of decor, adapting to the needs of taste and style.
Faber coffee machines are the best. All the more so since this modern pod coffee machine is compatible with all ESE pods, the universal 44 mm paper filter pods. Purchasing this product also allows you to choose from a wide range of products in addition to the classic Italian espresso, including, for example, ginseng, barley, and herbal teas. And this while saving money, because as is well known, pods are practical and inexpensive, compared to capsules.
Faber coffee machine: beyond design
The motor of this coffee machine is made in Italy, as are all its components, to ensure a tasty and creamy espresso every time. Its pump operates at a pressure of 16 BAR, while its fixed temperature controller is set at a temperature of 95-98 degrees.
The Faber Slot Plast coffee machine pod press is made of brass, a material that to date is one of the best conductors of heat. Similarly, the exchanger is also made of aluminum with brass torpedo! Faber leaves nothing to chance, and even the upper shell matches the lower one perfectly, even after several times and constant use.
No annoying water leakage for this appliance that features a modern rear compartment to replace the classic water tank!
Faber pod coffee machine: maintenance and cleaning
Here's one thing to keep in mind to best preserve your coffee maker, proper maintenance. Here are our suggestions:
Remove the wafer immediately after making your Italian espresso
Use bottled mineral water, which is certainly purer than tap water and has less limestone
Place the machine away from possible heat sources.
To learn more about this topic, read our article dedicated to the
how to clean coffee machine
and again to the
how to descale the coffee machine
.
In addition to all the above, it is important to note that the Faber coffee machine is easy to use, childproof! There are two buttons on the machine, one for power and another for dispensing, a front lever for inserting the wafer.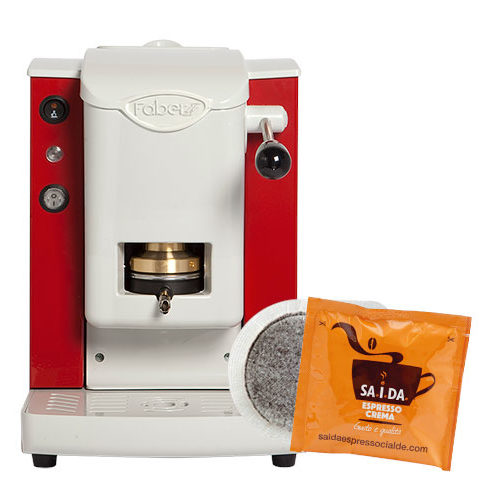 Looking for the best deal? At SA.I.DA. Espresso Pods you will find the Faber coffee machine at a bargain price! Take advantage of our promotion now, buying at the best price the
Faber Slot Plast coffee machine + 200 cream espresso pods
!